Today, we are in the most complex work environment in history, and to be successful, you always have to have access to your critical information, no matter where you are. At Ricoh, we call it the new world of work, a place where the only constant is change. And at Ricoh, we've always imagined change.
With our legacy of innovative technology that has changed the way we work, and our deep expertise in accessing, capturing and managing information, we deliver solutions that are harnessing the power of today's changing workforce. We are leaders in information mobility because we understand that it's not just about information access. It's finding the information that's important, and using it to drive the results you want. Fast.
In this new world of work, Ricoh makes information work for you.
There Is No Substitute For Excellence

California Digital Systems is a full service Authorized Ricoh Digital Copiers, Printers, Duplicators, and Document Solution Company.  Specializing in the Sales, Service, Installation, Supply and Maintenance of Ricoh Digital Office Equipment.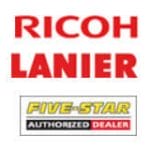 Total Business Solutions
When you rely on California Digital for service and support, you're working with a Five Star Dealer committed to providing you with a total business solution to your office automation needs.
California Digital maintains a professional staff representing one of the finest sales support teams in our industry today, with over 30 years of Office Equipment & Software Management experience.
Backing it up is our Service Department with Factory Trained Technical Specialists. Our powerful Service Management Team has over 40 years of Technical Experience behind them. Our same-day response-time & low-recall rate proves our excellent service.
By choosing to work with California Digital, you are helping to ensure the smooth, uninterrupted operation of your business. You are taking advantage of the best service and support. And you are subscribing to a Total Business Solution.
Document Solution and Printing Solution
We have continuously trained Document Management Solution and Printing
Solution Representatives that can assist and better manage your paper work flow.
We offer Web Based Demos for Prospecting Customers.